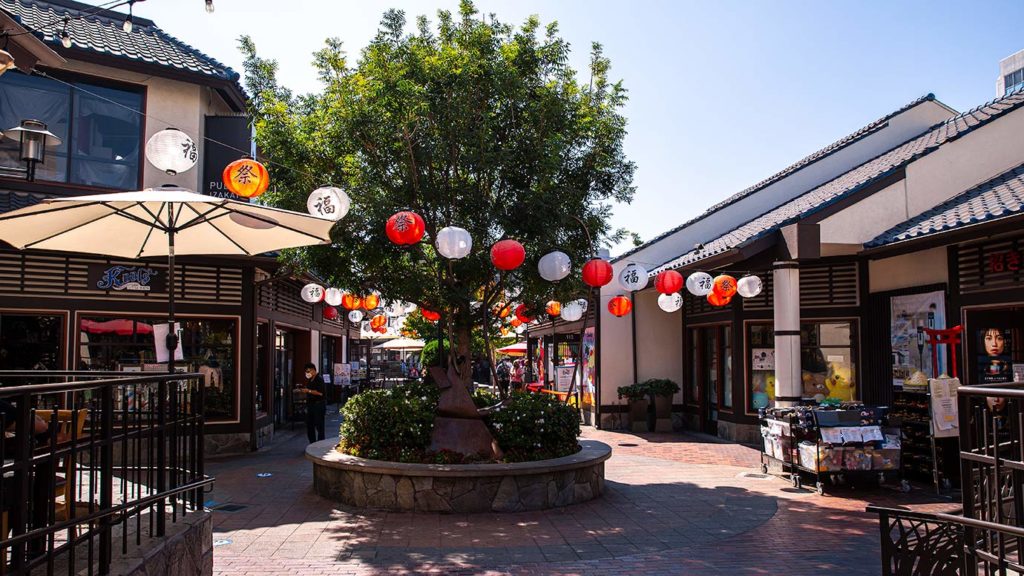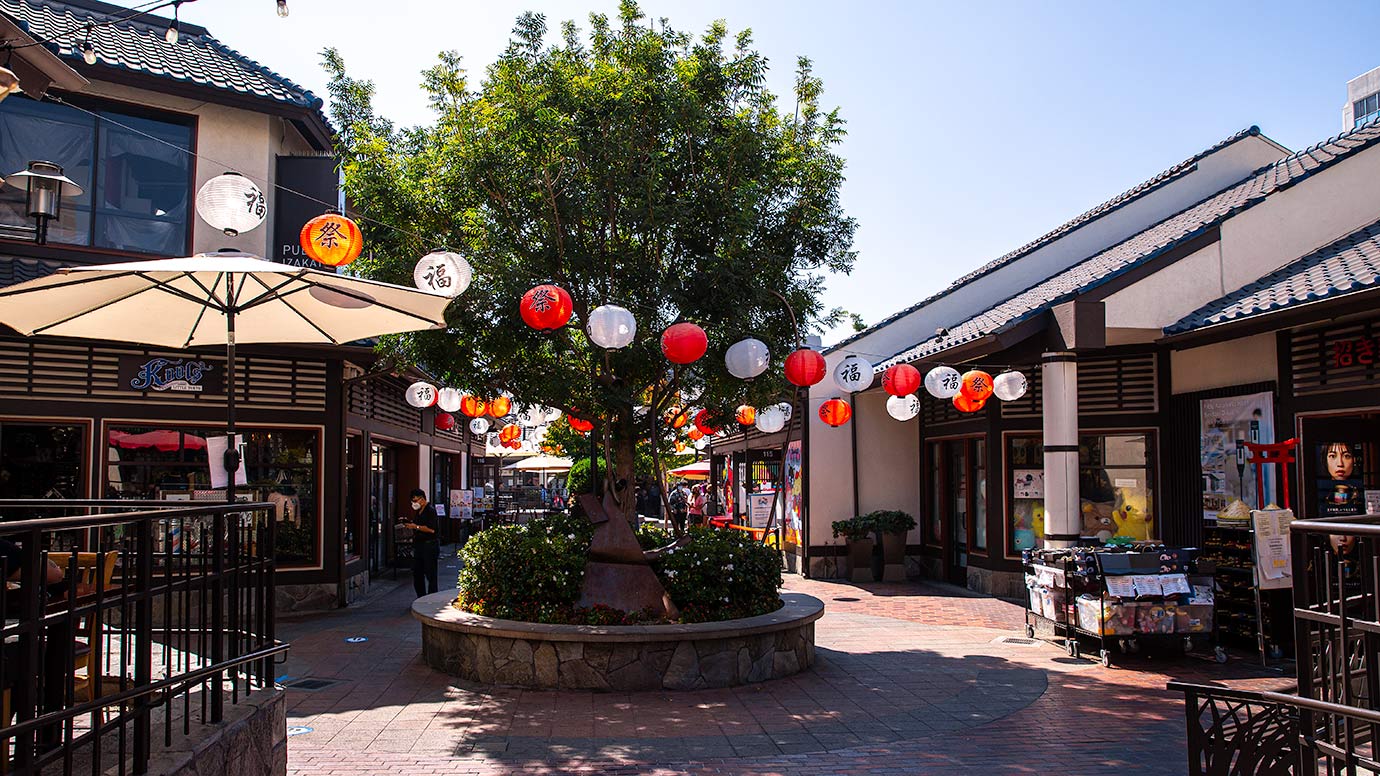 Little Tokyo is one of only three remaining Japantowns in the nation, and at over 135 years old it's also one of the oldest neighborhoods in Los Angeles. Here you will find a smattering of legacy, family-run businesses nestled near trendy dessert spots, Boba shops, Ramen joints, vintage shops, and cultural institutions.
Amidst the eclectic (and ever-growing) mix there is a lot to see, do, and eat. Use the guide below to start your adventures.
Advertisements
Top Things To Do In Little Tokyo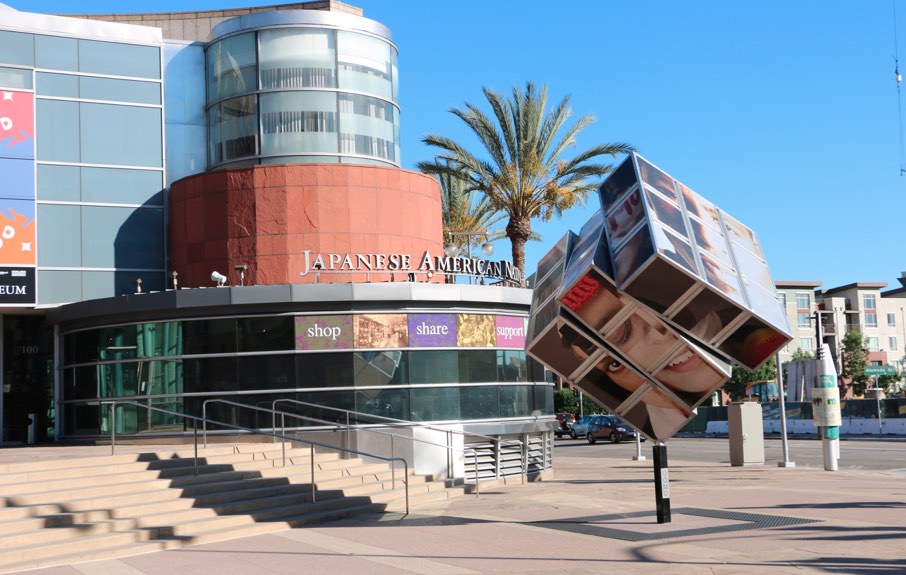 The Japanese American National Museum -> The Japanese American National Museum is the only museum in the United States dedicated to sharing the experiences of Japanese-Americans and the part they play in the nations history. Get more info here.
Explore Japanese Village Plaza -> Built in 1978 and located in the heart of Little Tokyo, Japanese Village Plaza is home to Japanese-themed shops and a variety of authentic Japanese cuisine as well as classic street food. Also located in the plaza is Nijiya Market a Japanese grocery story that carries unique goods such as matcha snacks, ramen and grab-to-go meals. –> Get more info here.
Japanese American Cultural and Community Center (JACCC) -> Founded in 1971, The Japanese American Cultural and Community Center (JACCC) is one of the largest ethnic arts and cultural centers of its kind in the United States. The center includes the Aratani Theatre where live shows are held, a culinary space for food focused events, the James Irvine Japanese Garden and art exhibits. Follow the JACCC Instagram for updates on special events for the many Japanese holidays held yearly such as Hinamatsuri "Girls Day" and Kotohajime. Get more info here.
MOCA Geffen -> The Little Tokyo campus of the Museum of Contemporary Art is the largest of the MOCA branches, offering over 40,000 square feet of exhibition space. Currently the museum is open on weekends only and visitors must reserve tickets in advance. If you find yourself in Little Tokyo on a weekday you can still experience a bit of art by walking to the north facing wall of the MOCA Geffen building to view Los Angeles–based artist Barbara Kruger's Untitled (Questions). Get more info here.
Advertisements
Try Mochi at Fugetsu-Do -> Fugetsu-Do has been family operated since 1903 and is the oldest Japanese-American-owned business in the United States. It offers a wide variety of hand-made Japanese confections and a colorful selection of mochi. Some flavors, like cherry blossom and Ichigo Daifuku (mochi topped with a fresh strawberry), are seasonal while chocolate and red bean are always on rotation. Get more info here.
Go For Broke Monument -> The monument commemorates the heroism of Japanese-American soldiers who fought in World War II. It embodies the Japanese-American veterans' values of courage, sacrifice, equality, humility, and patriotism. Designed by Roger M. Yanagita and built in 1999, the monument is engraved with the names of over 16,000 men and women who courageously fought so that future generations could live freely in the United States without fear of racial prejudice. Get more info here.
Double Tree Hilton Kyoto Gardens Rooftop -> Located on the rooftop of The Doubletree Hotel is Kyoto Gardens, half-acre (sounds bigger than it is) oasis with trees, flowers, cascading waterfalls, tranquil ponds and views of Downtown Los Angeles. Technically the rooftop is only for guests of the hotel, but in our experience you'll probably be head up to the garden floor without hassle. Simply walk into the hotel and proceed to the elevators behind the front desk. Take the elevator up to the floor "G" for garden. If possible, come on a weekday to avoid being turned away due to special events and weddings. Get more info here.
Advertisements
A Handy List of Other Little Tokyo To-Dos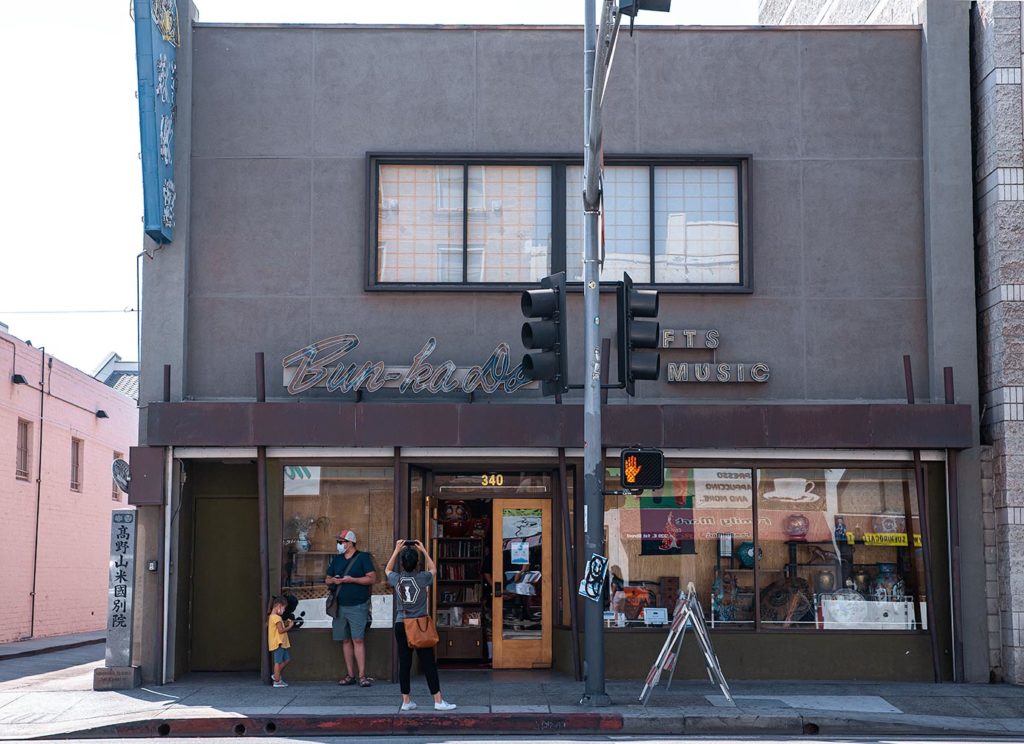 The "Home is Little Tokyo" mural illustrates 100 years of Little Tokyo history. Find it across the street from The Japanese American National Museum along Central Avenue.
Higashi Honganji Buddhist Temple located on East 3rd Street is affiliated with the Shinshu Otani-ha denomination, based in Kyoto, Japan. The beautifully constructed temple is open to everyone and is a peaceful spot that hosts many events and festivals year-round.
Non-profit, LA Artcore aims to help advance the careers of visual artists from diverse backgrounds. Admission is free and exhibits change monthly. 
East West Players is the largest and longest running Asian American theatre in the nation.
Open since 1945, family owned Bunkado is a kitschy shop that sells unique gifts, home goods, books, kitchenware, and other Japanese knick-knacks.
Pop Killer carries fun knick knacks, vintage clothing, cool t shirts and loads of gag gifts.
For an extra dose of cuteness, stop by the Sanrio store to check out the latest Hello Kitty products.
Little Tokyo Galleria is an indoor shopping center with a Japanese market, a few restaurants and independent shops.
Sing your heart out at Max Karaoke located inside Little Tokyo Galleria.
Weller Court is home to restaurants, shops and Japanese market Marukai. Walk through the courts neon tunnel to view a lighting installation. It's also a great place to snap a picture.
Weller Court is also home to a memorial dedicated to astronaut Ellison Onizuka, who perished in the 1986 Challenger disaster.
Kinokuniya is a Japanese bookstore chain founded in 1927 in Tokyo. The store carries Japanese books and magazines.
Where to Eat in Little Tokyo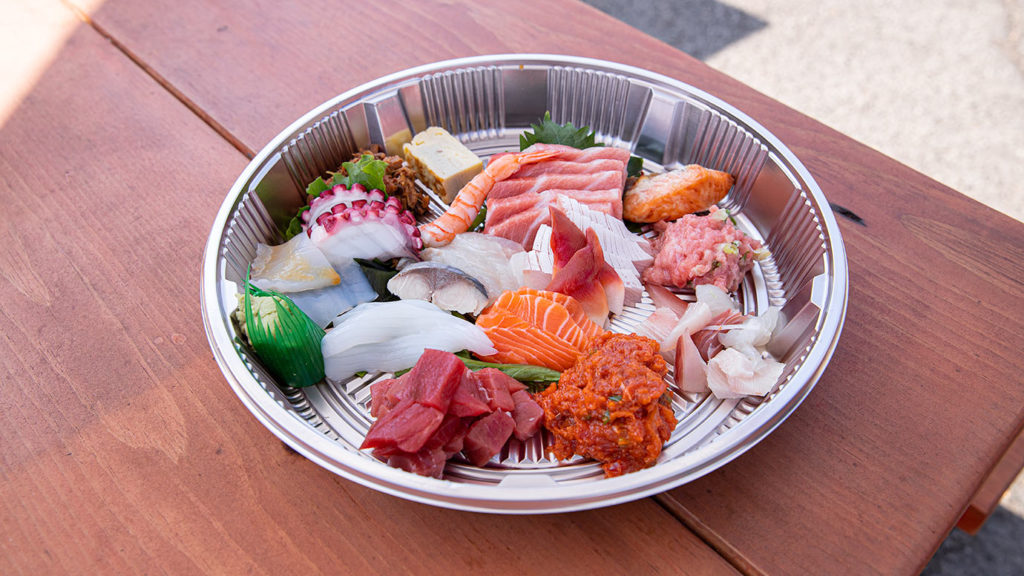 Open since 1991, Shabu Shabu House is the first Shabu Shabu restaurant in North America.
Hama Sushi is where you'll find fresh fish turned into rolls and sashimi. Simple and delicious, the food makes up for the long wait time.
Opened in 2009, TaNoTa Takoyaki serves takoyaki, the most popular street food in all of Japan.
Get a taste of traditional Japanese dishes and beautifully presented sushi boxes at Sushi Komasa. There is always a wait at this spot so come early.
Hiroshima's Chinchikurin found a home in Little Tokyo. Serving Hiroshima-style okonomiyaki the savory omelet features 11 layers of ingredients.
In business for over 40 years, Sushi Gen is one of the best places for sushi. The sashimi deluxe is the most popular item here.
Get a taste of Japanese-Italian-style pasta at PASTA e PASTA by Allegro.
Enjoy Hawaiian comfort food from Aloha Café, you can find items like Loco Moco, Kalua Pork, and spam musubi here.
Popular ramen joint Daikokuya is where you can enjoy a solid Tonkotsu broth.
RAKKAN Ramen is an award-winning ramen restaurant straight out of Japan that serves a delicious plant-based broth.
Marugame Monzo makes fresh made hand-cut udon before guests. The fresh chewy noodles are served Japanese style or Italian fusion.
Order up a Japanese beer at Far Bar. Drinking companions such as wasabi fries, Asian-inspired tacos, and burger are also on the menu.
French and Japanese brasserie Azay offers classics like kakuni omurice alongside Boeuf Bourguignon, Duck Confit, and a full Japanese Breakfast service.
Discover imaginative vegan macrobiotic sushi at Shojin.
Annual and Ongoing Events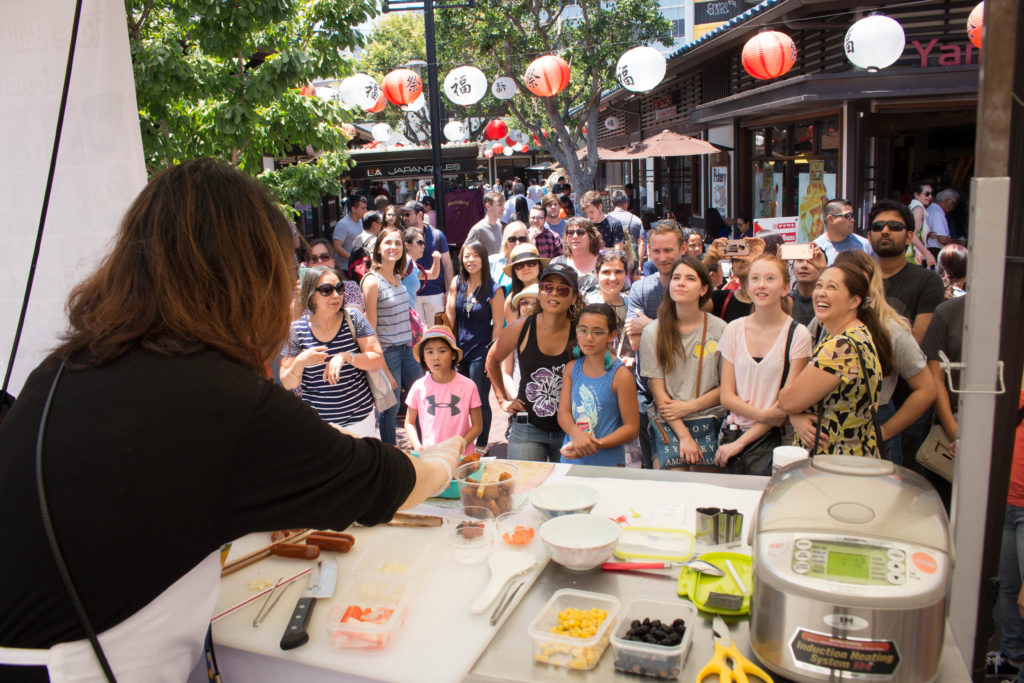 Nisei Week is a summer time festival that celebrates Japanese and Japanese American culture. The week-long celebration is jam-packed with live performances, activities and a grand parade. The 80th Nisei Week Japanese Festival will take place August 13-21, 2022.
Natsumatsuri Family Festival is an annual summer celebration featuring cultural performances, crafts, and activities for families and kids at The Japanese American National Museum. This year the festival takes place August 13, 2022.
Oshogatsu is a New Years day celebration held in Little Tokyo that includes traditional activities like mochi pounding, cultural entertainment and activities for all ages at local store fronts, shopping centers, museums and the JACCC.
Every year the public is invited to take a culinary journey through the historic neighborhood with the help of Delicious Little Tokyo. Activities in the pass have include a History of Little Tokyo Food Tour, pop-up shops, workshops, live demos and special culinary eats.
Zenshuji Obon Carnival honors ancestors with cultural ceremonies, live entertainment and traditional food. Held in the summertime at the Zenshuji Soto Mission.
Not a traditional Japanese celebration, Haunted Little Tokyo is a new spooky month-long event held in October. Last year's edition included film screenings, a pumpkin patch, a block party and a trick or treat night.
---
Want to get the best things to do in L.A. sent straight to your inbox? Join over 60,000 Angelenos who subscriber to our twice weekly email newsletter!
By subscribing, you agree to our terms of use and privacy policy and consent to receive emails from We Like L.A. about news, events, offers, and partner promotions.
Advertisements