Ann Arbor resident Haluthai "Thai" Inhmathong, owner of the pop-up Thai restaurant
Basil Babe
, understands food's power to connect people to her culture. Since she started her pop-up during the COVID-19 pandemic, she's been striving to bring her community closer together through her cuisine. And she's just one of many Ann Arbor culinary visionaries using Asian food to nourish understanding and bonding between cultures.
"Giving people a taste of home leads to so many opportunities for a happier community," Inhmathong says. "We're lucky to be in an area where there are all these different types of cuisine that we can try, all within miles of each other. Our food scene is a great place to explore openness and break down differences between people."
It's a phenomenon she's witnessed often among the city's significant Asian international student population, many of whom Inhmathong says have no idea what a pop-up restaurant even is. However, once they feel a sense of safety, they come back and bring others in the community with them.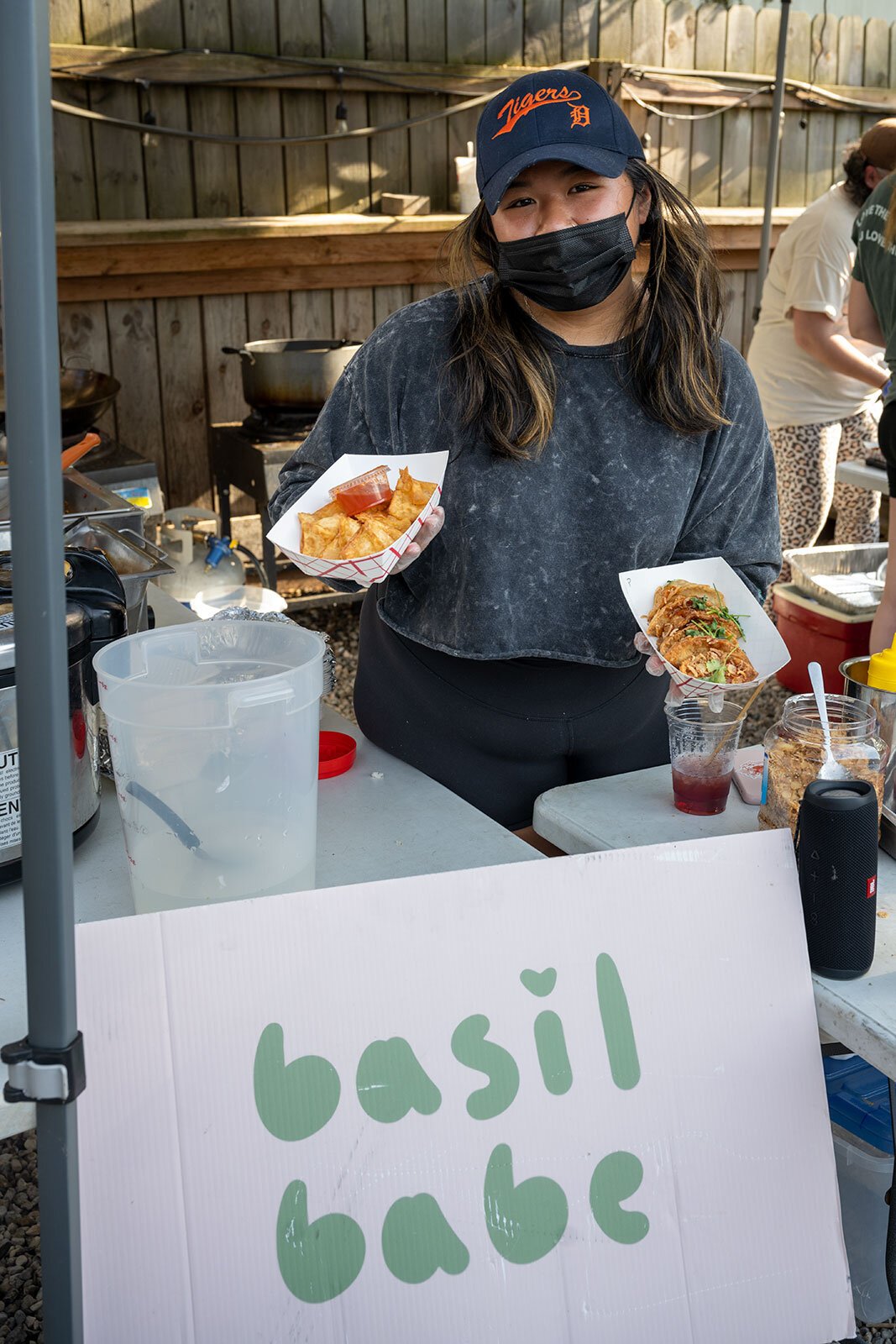 Basil Babe owner Haluthai "Thai" Inhmathong.
"It's really unbelievable to watch," Inhmathong says. "A shy student who is new to the city might come up one week and order something and then go off. Next week maybe they'll shyly order in Thai. The next week they're coming with friends and introducing them to Thai food and creating memories." 
Inhmathong is well versed in the importance of sharing food with friends, as her mother, Vasanna Inhmathong, owned the Siam Square restaurant in Ann Arbor for over two decades. But she's found herself looking at the concept a little differently in the last few years, especially following national incidents of violence against Asian-Americans. 
"We can definitely use food to build care in our community and to build personal connections with our neighbors so that we can look out for each other," she says. "People can educate their friends by taking them to an Asian restaurant and ordering something new. It goes a long way in showing that even though we might look different, there are many similarities between us, and we can find compassion for each other."
Inhmathon shares her own experience from her first trip to Japan several years ago as an example.
"I tried an ice cream with a vanilla base, like what we're used to here, but then they had lots of tiny, dried salted fish in it," she says. "It was a bit confusing at first, but it was one of the best things I've ever tasted. There was familiarity and comfort, but difference, and that really was an impactful lesson for me."
Using dining to redefine home
Food is one the simplest and safest ways of introducing people to a culture that they're not used to, says Michael Persa, director of operations at Slurping Turtle restaurant, 608 E. Liberty St. in Ann Arbor. Having grown up in the Midwest, prior to joining the Japanese ramen and sushi restaurant in 2014 as a consultant he says he had "no clue about anything Japanese." He found himself suddenly "in a different world." He recalls that just having ingredients explained to him, or seeing the simple way fish is cut differently, was "like traveling and coming back with more fluency as a person."  
"If a person's eyes can be opened to something other than what they're used to, it gives everybody better knowledge and allows people to be understanding of each other," he says. "Once you experience something that is different, then it's not different anymore. It's not scary. There is a wall that is taken down and your mind is opened."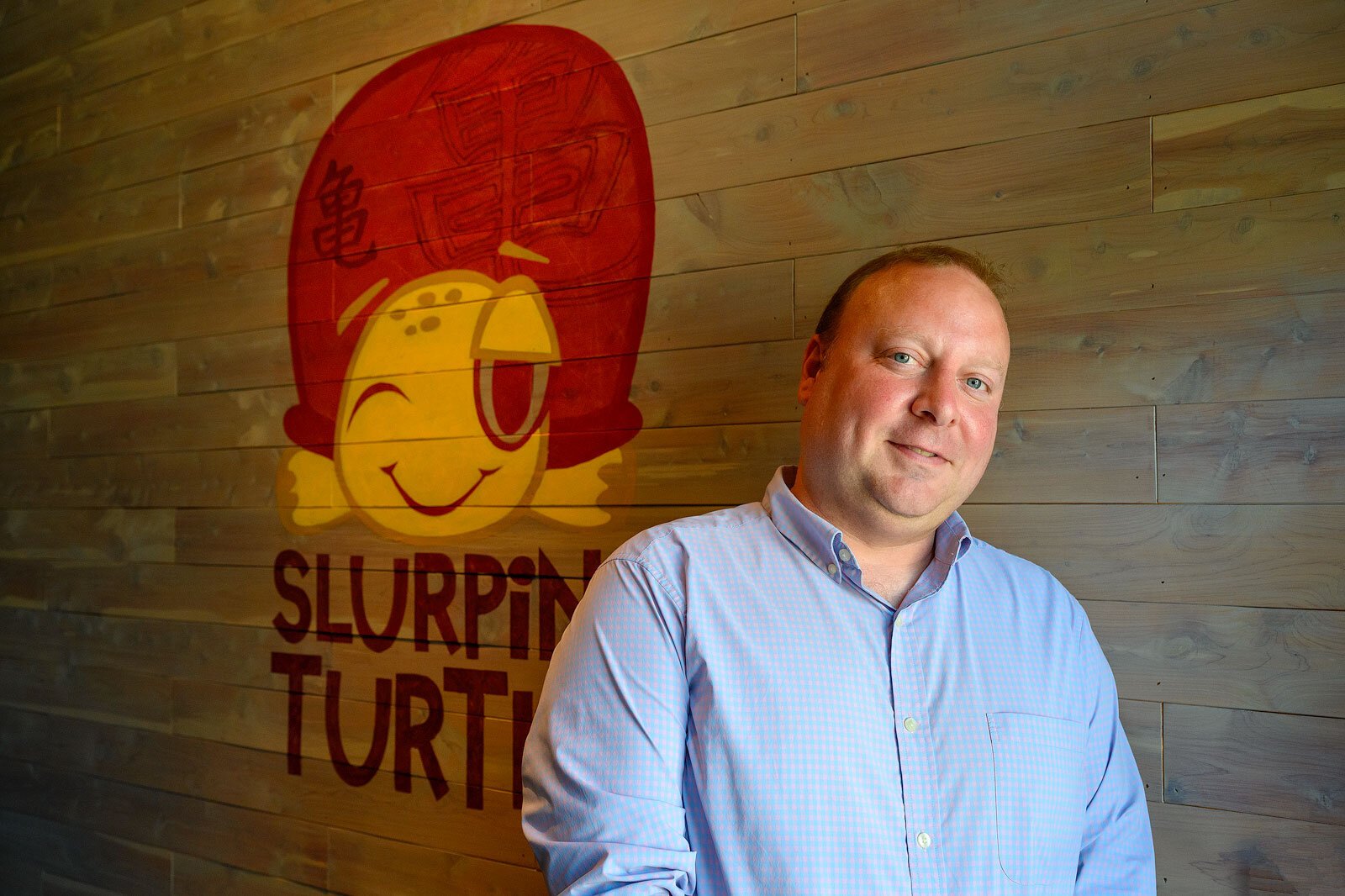 Michael Persa at Slurping Turtle
The brainchild of James Beard Award winner Takashi Yagihashi of Japan, Slurping Turtle attracts people from all walks of life. Persa notes that many of the restaurant's Asian fans say Slurping Turtle's dishes are the closest in authenticity to what they may have experienced around the world. Just as often, he says, Slurping Turtle serves customers "who literally walk in because the steak place next door is full, and they have no idea what they've stepped into."
It's usually the opposite experience for many customers at Evergreen Restaurant, 2771 Plymouth Rd. in Ann Arbor. Lin Chu, the restaurant's marketing and events manager, says many visitors make very deliberate visits. 
"We have a wide range of customers from all over the area. We're the place that new Asian university students get introduced to, because we're walking distance from campus and they can do so many other things in one spot," Chu says. "We also have a lot of young Asian business professionals from the university who will bring in their non-Asian friends, and then those friends bring everyone else."
The Chinese restaurant has been nestled in its Plymouth Road Plaza location near the University of Michigan's north campus for 30 years. Other tenants in the plaza comprise a mini-mecca of Asian culture. The plaza houses an Asian grocer called Way 1, Ann Arbor Tae Kwon Do School, and Yoon's Bakery, which sells fresh-baked Korean fare. There's also Midnight Karaoke, a karaoke bar with a wide catalog including many Chinese, Korean, Japanese, Bahasa Malaysia, Vietnamese, and Indonesian songs. The student hotspot also recently opened a room where visitors can play Mahjong, a popular Chinese game involving tiles and strategy.

Lin Chu at Evergreen Restaurant's downtown Ann Arbor location.
"We're proud to be a spot that welcomes people and gives them a sense of home and comfort. People can bring their family from China or their new American friends," Chu says. "We've been kind of growing and changing with the local community, so our menu has traditional Chinese dishes and plenty of American Chinese dishes."
Chu, who came from China to Ann Arbor as a student six years ago, says that Evergreen has recognized the need to bring together Asian customers and non-Asian customers who crave traditional Chinese food. That was a motivating factor in Evergreen's recent opening of a new downtown location at 208 W. Liberty St. in Ann Arbor, where Chu is the general manager.
"It's not completely full service. It's not fine dining or as serious as the other location,"  she says. "It's a one-page simple menu that will appeal to the serious Chinese foodies and anyone else who doesn't want General Tso's chicken."
A creative way to connect
Chef Duc Tang of Pacific Rim by Kana, 114 W. Liberty St. in Ann Arbor, is very intentional about adapting Asian dishes from his childhood and re-envisioning them to appeal to a wide swath of the local Ann Arbor community. 
"I'm always re-imagining things to serve our community. I try to make the food a little bit more approachable and more accessible, but I never water down the flavor," Tang says. "So maybe, instead of a traditional dish that has a whole fish with the head on, the dish will be the same, but with just a headless filet."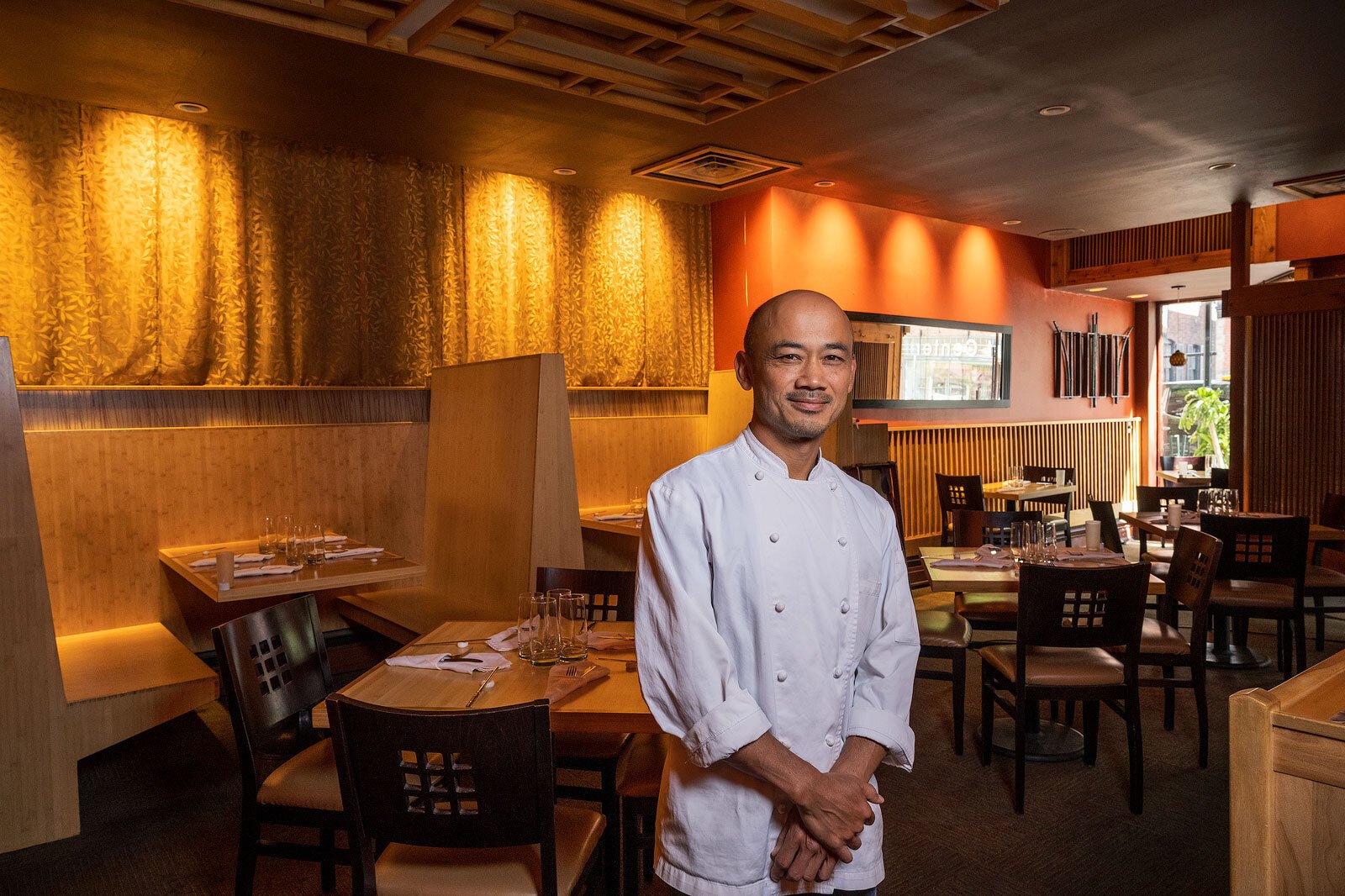 Chef Duc Tang at Pacific Rim by Kana.
Tang is the legacy-holder of one of the Ann Arbor area's first Korean restaurants. Pacific Rim opened in 1982 as Kana, owned by a Korean couple who passed on the restaurant to their son Y.B. Ko in 2000 so that they could retire. Ko brought on Tang, whose only related experience had been cooking for large groups of friends when they were both in graduate school. Tang, who ended up moving from New York City with his wife and new baby to help Ko, confesses that he was only going to help for two years and then go to medical school. However, he says, "the rewards have been so great."
"One of the most satisfying things for me to do is just walk through the dining room and see people not just enjoying the food, but enjoying each other's friendships," he says. "Our food is accessible and has a lot of appeal that draws different people together in the same place. It's a vehicle that enhances community-building."
Ji Hye Kim, owner of the renowned Miss Kim Korean restaurant at 415 N. Fifth Ave. in Ann Arbor, is adamant that "as cliche as it sounds, breaking bread together brings people close." 
"When you try a dish that is traditional, or uses local ingredients or techniques for preparation, you get a look at the narrative of the cuisine and the people behind it," Kim says. "You can get an understanding. And when people have understanding, they can be more relaxed and just have a good time, and maybe that understanding goes out into other parts of their lives."
As the COVID-19 pandemic releases its hold on in-person gatherings, Kim is considering ways to bring more awareness to the richness and variety of local Asian cuisine. Kim suggests that it might be time for people to consider what she refers to as "the nitty-gritty."

Miss Kim owner Ji Hye Kim.
She explains that it's difficult for her to say Miss Kim's food is an example of her Korean culture, because Korean culture is not a monolith. Furthermore, she notes, Korean culture in Korea is different than in America, and even different between Ann Arbor and Detroit. It's the same, she stresses, for every kind of Asian food.
"Honestly, I dream of a day where I don't have to talk about my culture as a specific thing when I talk about food. I just want to serve people in our community food," she says. "Let's get to a point where we are just eating American food together. It's not Korean food, it's not food from Michigan. It's food that's just American. It's food that's all of us."
Jaishree Drepaul-Bruder is a freelance writer and editor currently based in Ann Arbor. She can be reached at [email protected].
All photos by Doug Coombe.