Kolkata Restaurants
The tree-lined township along the EM Bypass is punctuated with eateries catering to various tastes
By
Lygeia Gomes |
Published 12.10.22, 07:38 PM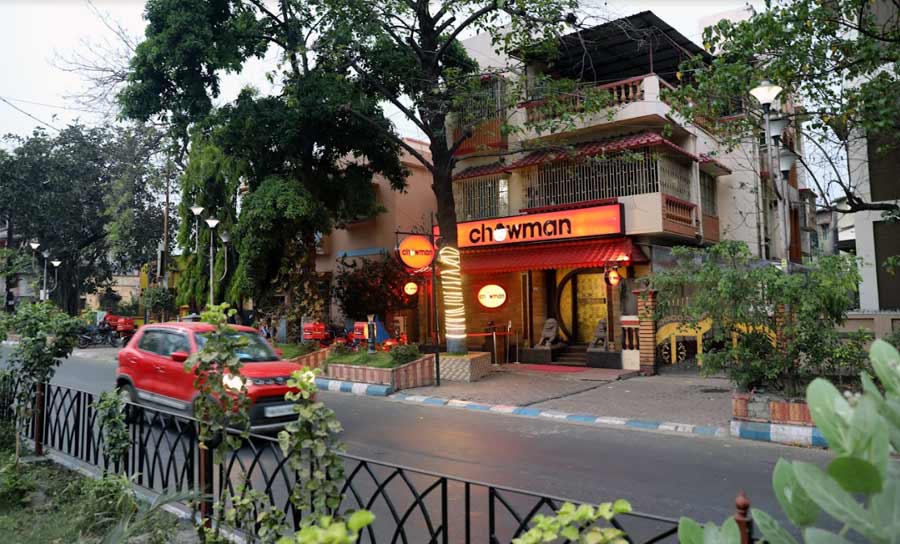 CHOWMAN: An outlet of the restaurant chain Chowman is nestled on this stretch. Chowman's unique take on Chinese and Asian fare makes it one of the city's most popular restaurants. Try the Stir Fried Pak Choy in Oyster Sauce, Hunan Fish and Devil's Pork.
Arijit Sen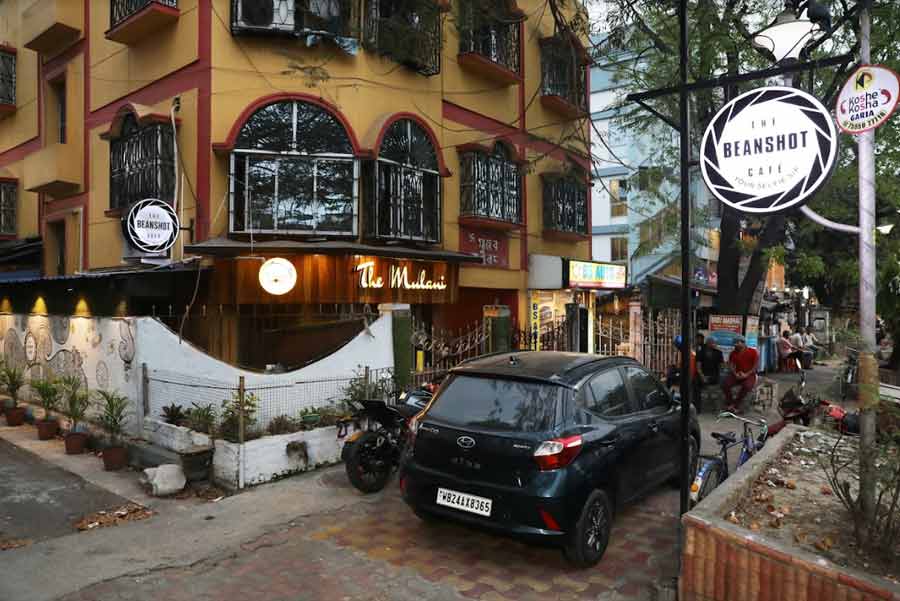 THE MULANI AND THE BEANSHOT CAFE: If you're looking for a chilled-out cafe serving Continental fare, The Beanshot Cafe is your answer. Go the whole hog here with their All Day Breakfast or the Lazy Breakfast menu that features sumptuous sandwiches. For kebabs, on the other hand, head next door to The Mulani. They offer traditional treats like Tandoori Chicken and Reshmi Kebabs along with offbeat offerings like Mutton Mulani Kebab, Tandoori Ribs and Amritsari Fish Tikka
Arijit Sen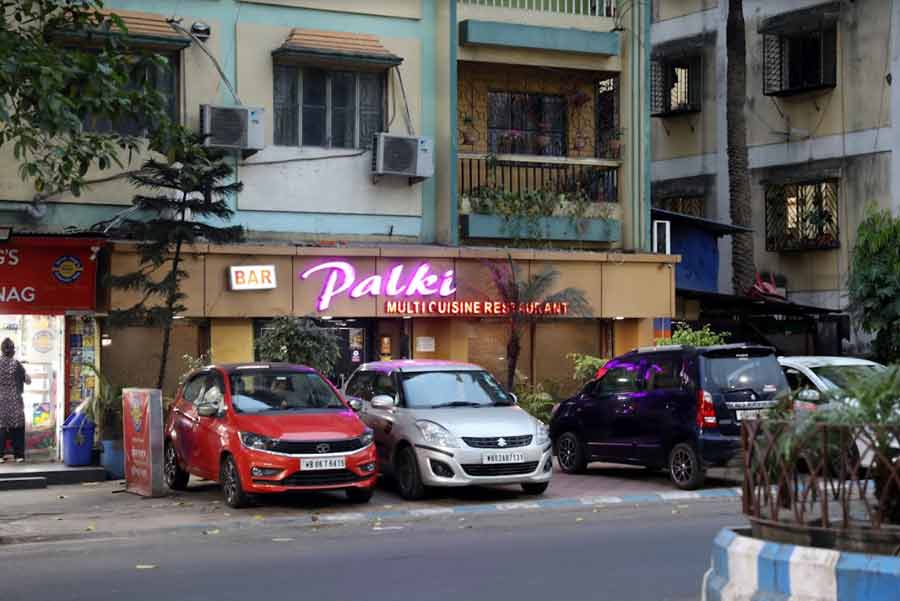 PALKI: This restaurant from Patuli's early days as an up-and-coming neighbourhood kickstarted the spree of eateries on this stretch. Palki specialises in Indian food and Reshmi Butter Masala, Kadai Chicken and Fish Tawa Masala are popular picks
Arijit Sen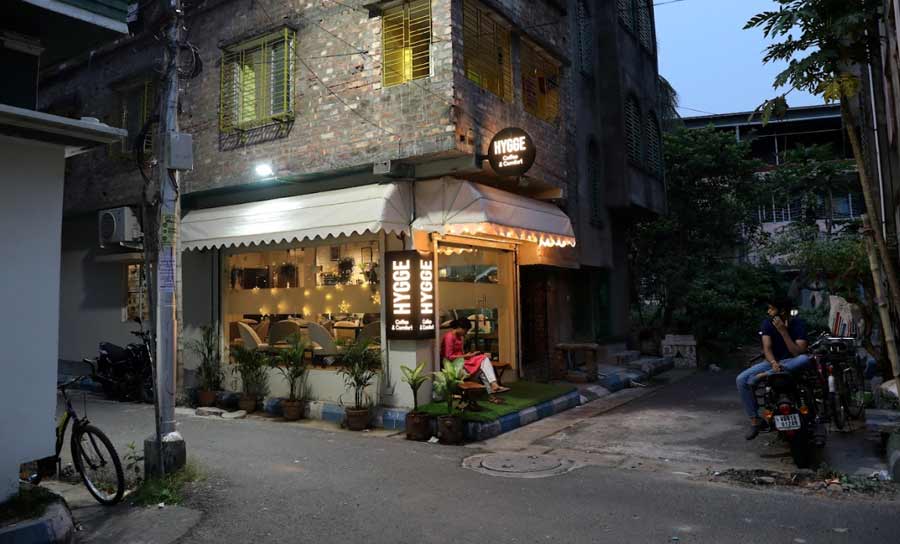 HYGGE: This cosy cafe is done up with minimal decor and yet is #Instaworthy. The menu at Hygge ranges from Fish 'n' Chips and Meat Lovers' Pizzas to BBQ Chicken Wraps and Mushroom on Toast. They also have an All-Day Breakfast Platter of toast, eggs, sausages, salami, grilled tomatoes and fries that merits exploration
Arijit Sen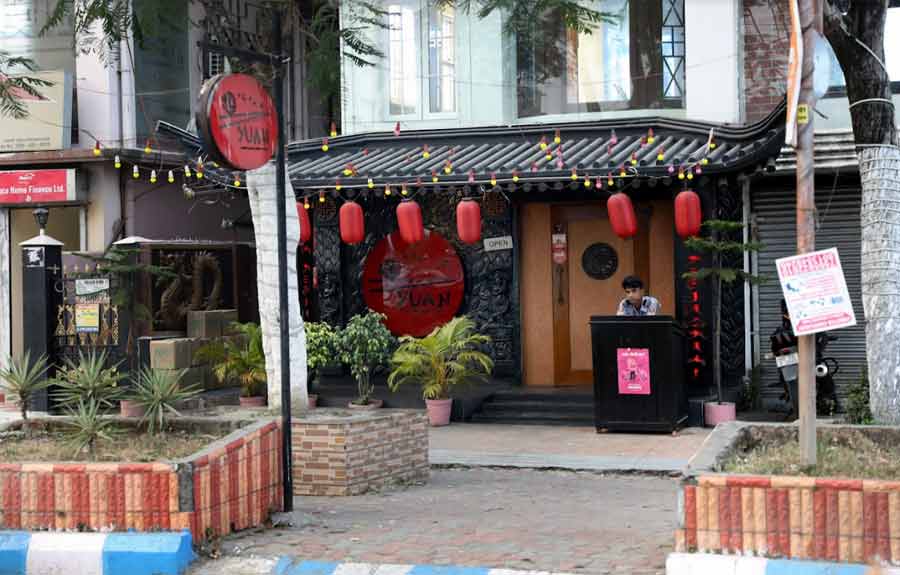 YUAN: Yuan serves up 'Calcutta Chinese.' Try the Chimney Soup, Lung Fung Soup and Wanton Soup to start things off followed by Drums of Heaven and Pan Fried Jumbo Prawns as starters. For the main course, pick between Vegetable Coins in Manchurian Sauce, Kung Pao Chicken, Mandarin Chicken and Roasted Pork to go along with the quintessential Hakka Noodles and Chilli Garlic Fried Rice. Dessert is, of course, a toss-up between Darsaan with Ice Cream and Tutti Frutti Ice Cream
Arijit Sen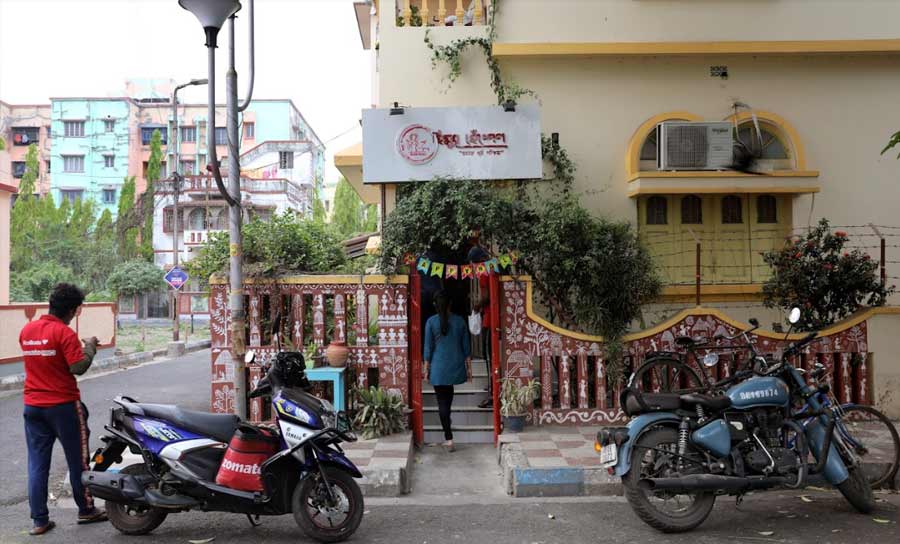 HIMUR HESHEL: On the far end of Patuli Jheel Park is Himur Heshel — often mistaken for a dance studio — serving Bangladeshi delicacies. Himur Heshel began as a home kitchen out of Bangladeshi chef-owner Sutapa Barua's Sonarpur home. The Shash e Gondhoraj Chingri, prawn infused with flavours of gondhoraj lebu and coconut, is a must-have. Another sought-after pick is their Chittagong-style Mutton Kala Bhuna, which is made using 17 different spices!
Arijit Sen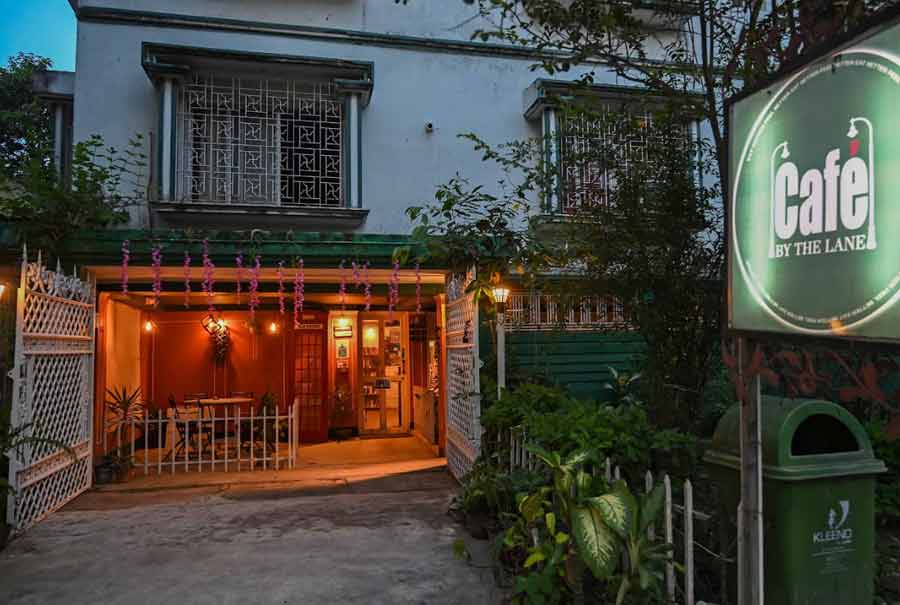 CAFE BY THE LANE: Located on the other side of the EM Bypass, Cafe By The Lane is a quaint jazz-themed cafe. The hideout has a vibrant menu featuring snacky items and both hot and cold beverages. It also hosts live performances. Watch this space for more!
Amit Datta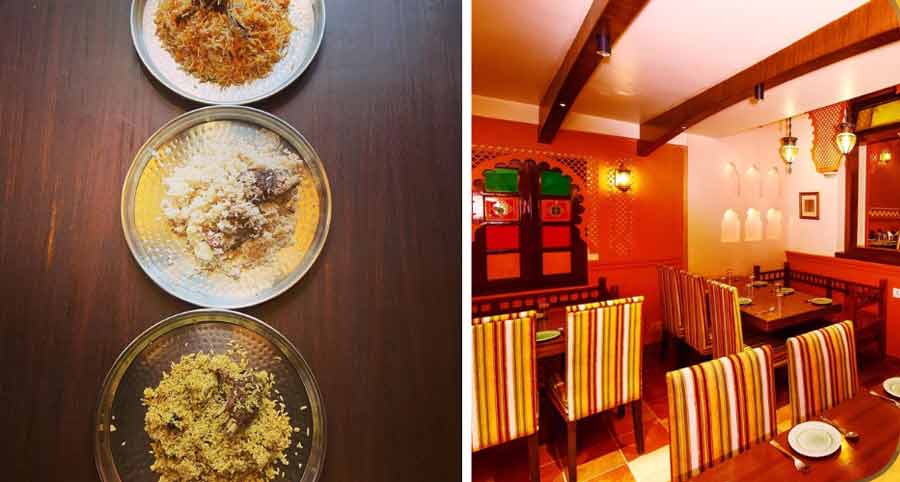 BIRYANISHK BY THE BIRYANI COMPANY: Along the kerb, at the junction of the Patuli connector and Raja SC Mullick Road is Biryanishk By The Biryani Company, which serves "bouquets of Biryanis from one Biryani lover to another." On the menu are the OG favourites chicken and mutton biryani along with veg and egg variations. Biryanishk stands out because it has Biryani Handis on offer which are family-sized 1.5kg servings and each have pieces of potato and three eggs
@biryanishkbytbc/Instagram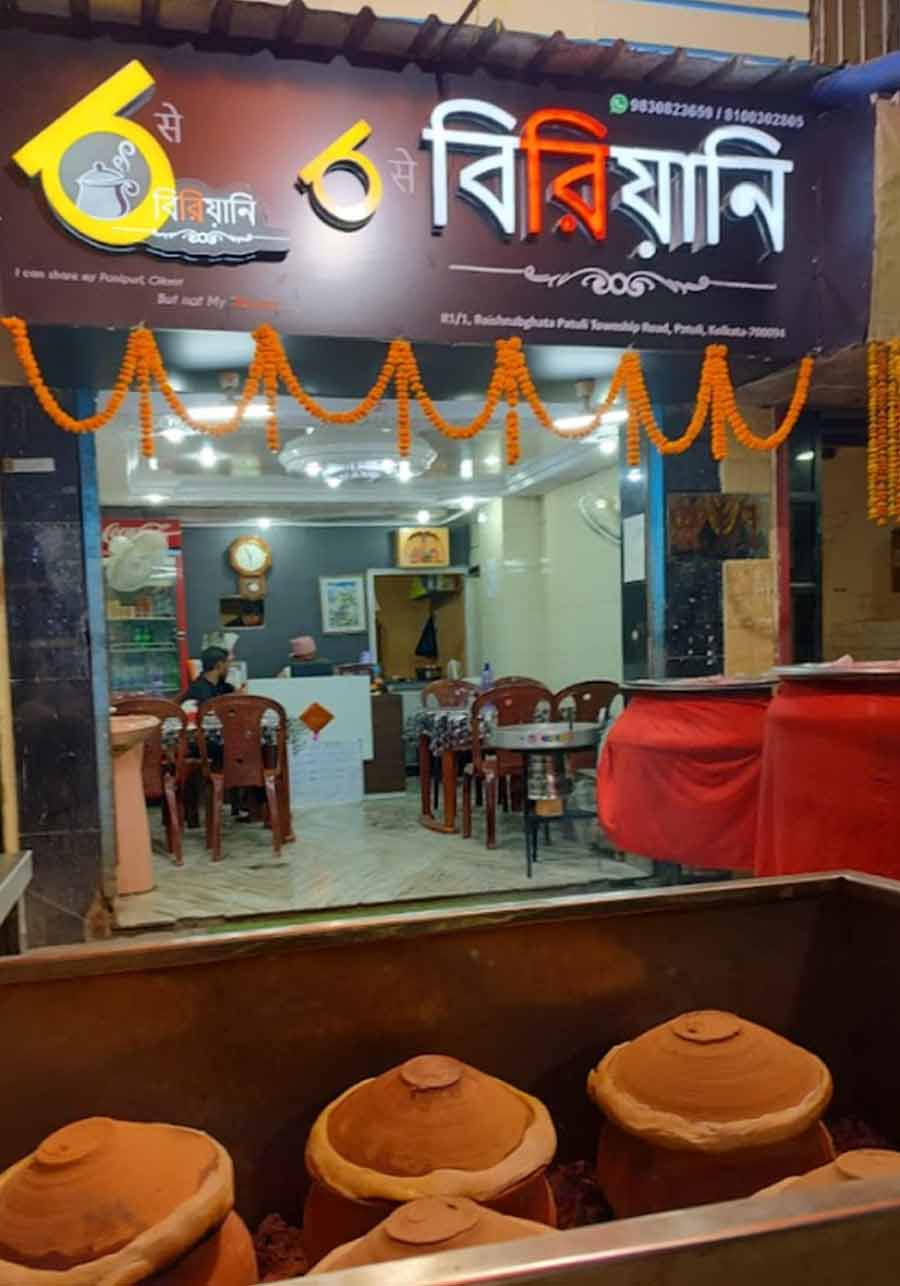 B SE BIRYANI: Also located on the other side of the EM Bypass in the Patuli Township area, B se Biryani caters to every biryani craving. You'll spot Chicken and Mutton Biryani with Borhani, along with Kacchi Biryani and Handi Biryani with Borhani on the menu. There are also a number of combo meals with biryani and chaap (mutton or chicken)
Courtesy B Se Biryani