Nov. 15, 2022
A new Mexican restaurant that's opening in the coming weeks in south Sioux Falls is a blend of two families and their favorite recipes.
La Plaza Fiesta Mexican Restaurant is putting the final touches on its space in a retail center at 521 W. 85th St. in front of Walmart, and inspections are scheduled for next week.
"Our dream is to be open before Dec. 1," co-owner Krystal Hernandez said. "So we'll see how much we can get done in the next few days. We're going to be here all day, every day and getting stuff finalized."
The family casual restaurant will make diners feel like they're at a resort, Hernandez said. The space is an open dining room with a bar in front of the wall that hides the kitchen. Above the bar, there's a large installation with "palm leaves" that are green lights and "coconuts" that are hanging lamps. Behind the bar, there's a large piece of art with a Dia de los Muertos theme.
One wall is a large photograph of the beach and ocean, and another is a map of North America and Central America.
The dining area can seat up to 140 guests at tables and booths.
La Plaza Fiesta is a new partnership of two families who have their own Mexican restaurants. Hernandez and her husband, Daniel, have a La Plaza Fiesta restaurant and grocery store in Madelia, Minnesota, and Reyes Aranda Sr. and Jr. own La Cantina Mexican Restaurant in Brookings and other locations in Wisconsin and Michigan. They're joined in the Sioux Falls restaurant by Daniel's brother and sister-in-law, Antonio and Luz Hernandez Tovar.
The two families are from the same central Mexico village of Guanajuato but didn't meet until they were living in the U.S. through common friends, Hernandez said. "And then, they were like, 'Do you guys want to do a restaurant with us?' And so it just kind of happened like that. It's super weird, but it works."
The restaurant will combine foods from both families.
"We're really excited" about the menu, Hernandez said. "It's been fun to mix different styles and ideas together."
Diners will find "the basics, like we'll have fajitas and quesadillas, burritos, enchiladas, but then we're going to have some resort-type, kind of fun appetizers and dinners as well, like some fancier ones. We'll have margarita towers. We'll have molcajetes, which is the big lava rock that you find in Mexico that they cook a lot of salsas and dishes in."
There will be beef, pork and chicken. Seafood dishes will include scallops, crab, shrimp and oysters, she said. Vegetarian offerings will be available.
The menu will have an American section with hamburgers, chicken sandwiches, chicken tenders and steaks. Kids will have their own offerings too.
La Plaza Fiesta has a beer and wine license, but there will be malt-based margaritas and other tropical drinks served in festive glasses imported from Mexico. Mexican beers and domestic offerings will be available on tap and in bottles and cans. The restaurant will serve Coke products.
La Plaza Fiesta will be open daily at 11 a.m., closing at 9 p.m. Sunday, 10 p.m. Monday through Thursday and 11 p.m. Friday and Saturday.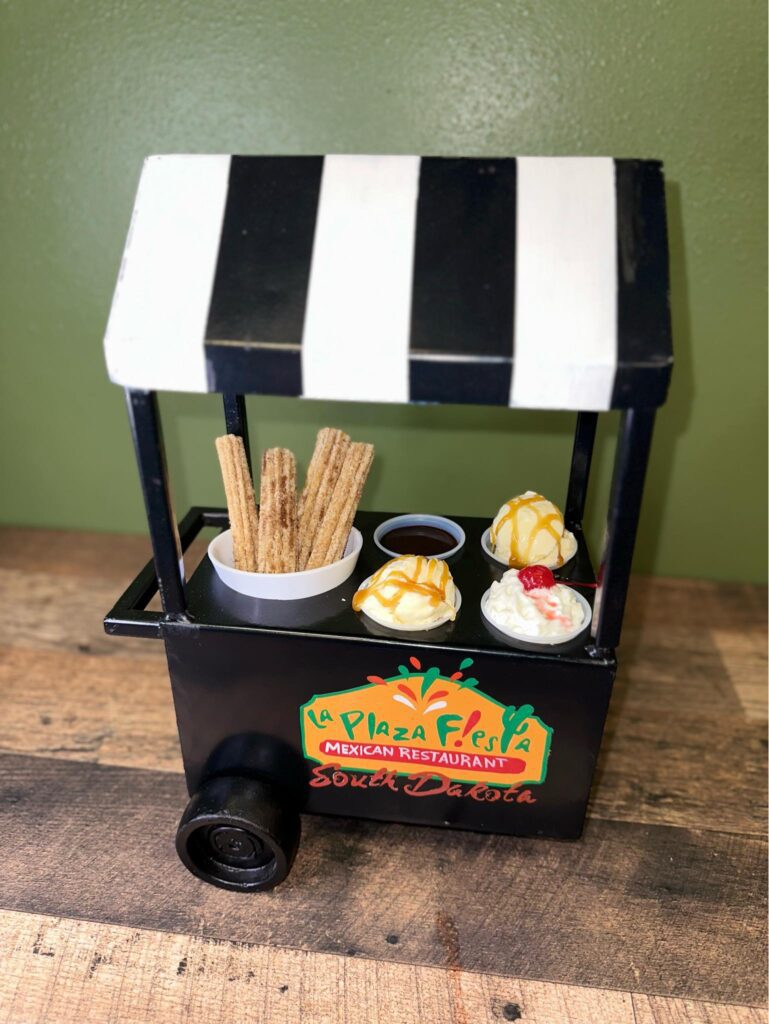 Eventually, the restaurant will offer catering, Hernandez said. Their other restaurants offer catering, but they want to wait in Sioux Falls until they're up and running smoothly.
The long wait for the restaurant is almost over, Hernandez promised. They announced it in July 2021 and had hoped to be open that fall, but "a lot of things" led to the delay. "Life, all of us have kids, and then equipment got backordered, and then we didn't hire a general contractor – we did it all ourselves" with the help of subcontractors, she said.
Customers from Sioux Falls who have been traveling to Brookings and Madelia to eat at the restaurants have been waiting patiently but asking frequently about the progress, she said.
"We really are going to open," she said laughing.
Mexican restaurant to open in south Sioux Falls