Takeaway's Jitse Groen Faces DoorDash, Uber Eats in U.S. After Dominating Europe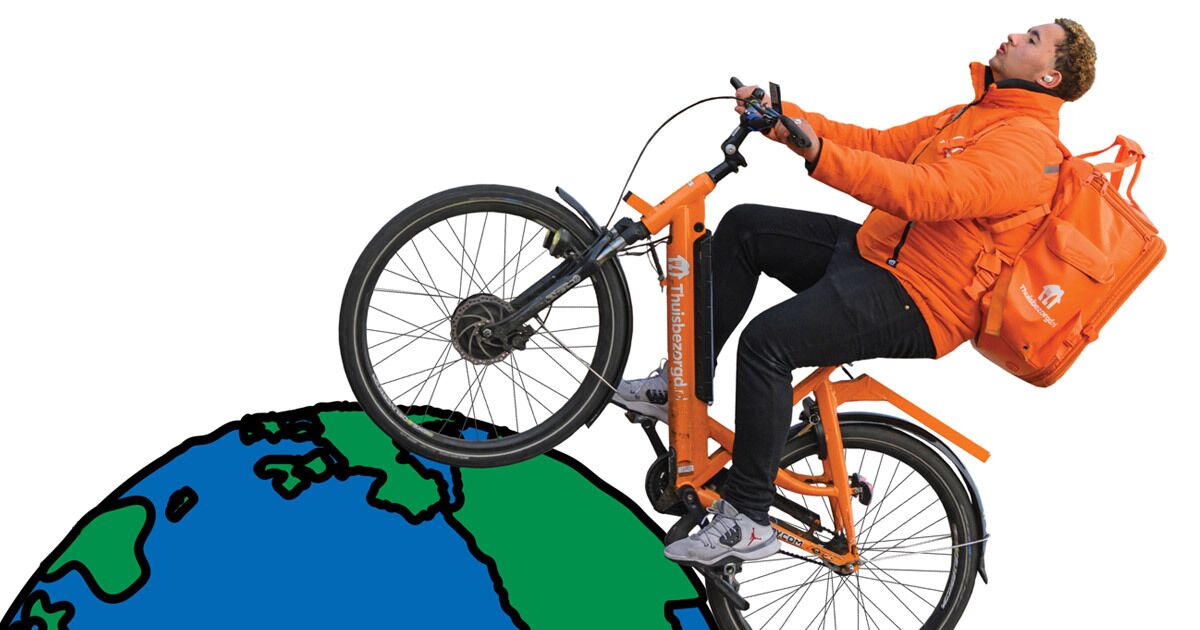 The early months of the coronavirus pandemic were both a boon and a strain for U.S.-based food delivery companies. DoorDash, Grubhub, Postmates, and Uber Eats all saw a rush of business while still suffering from the dismal economics that had kept any of them from becoming profitable. It was unclear whether the lockdowns were a moment to shine or collapse.
So they started merging. In May, Uber Technologies Inc. was on the verge of acquiring Grubhub. The deal fell apart at the 11th hour, and Uber went on to buy Postmates for $2.65 billion; Grubhub ended up in the arms of Just Eat Takeaway.com NV, an Amsterdam-based company that had never had a presence in the U.S.
The deal, whose final value will be close to $7 billion, was an inversion of the normal course of things in tech, where it's more common for high-flying U.S. businesses to sweep up smaller European companies. It also made Takeaway's founder and chief executive officer, a 42-year-old Dutch billionaire named Jitse Groen, one of the most important players in U.S. food delivery.

The Grubhub deal is expected to close in the first half of this year, pending approval by Grubhub shareholders, meaning Groen could arrive in the U.S. just as a semblance of normalcy returns. That could make things tricky for delivery companies, whose stir-crazy customer base is probably eager to avail itself of the opportunity to do almost anything other than sitting in the house eating out of plastic containers.
Compared to Uber Eats and DoorDash, Takeaway and Grubhub are focused less on delivering food themselves than on facilitating online orders. Groen believes this will make his company more resilient, because its partners are largely takeout restaurants, while competitors work more with restaurants whose dining rooms will reopen. "We will not suffer that much from the end of the pandemic," he said on a March 10 earnings call. "We do believe that our competitors that are mostly logistical businesses will suffer from the reopening of the economies." Groen projects a further acceleration of growth in 2021, while DoorDash said in February its outlook for the year remains "highly uncertain."
Still, he'll be navigating new terrain and starting from a disadvantage. In January, DoorDash accounted for 56% of meal-delivery sales in the U.S., according to data analytics firm Second Measure. Uber Eats along with Postmates made up 26%. Grubhub had 17% of the market.
A come-from-behind victory in the U.S. would be a satisfying addition to Groen's résumé; its highlights include repeated instances in which he's outmaneuvered rivals in European markets. The jackets and thermal food bags employed by his company's couriers—colored a bright orange emblematic of the Dutch royal family—are now ubiquitous across the continent. He declined to be interviewed for this article.
Groen started his company as a 21-year-old college student, inspired by seeing classmates promoting their companies in Dutch media, according to a 2009 interview he gave to the Dutch business publication Emerce. He settled on meal delivery after unsuccessfully trying to order Chinese food online for a family gathering in 1999. Six months later, Groen paid €50 to register a website and started programming in his dorm room. He eventually dropped out of school to pursue the project full time.
It was slow going in the beginning. "I had to beg the first 700 restaurants to be on my website," Groen said at a conference in 2016. He subsidized his core business by having his team of programmers build websites for telecommunications companies. As Takeaway's site gained traction, he opened an office and hired customer service agents to call restaurants and check if they'd received orders, freeing him to dress up and drive around the Netherlands—a country slightly bigger than New Jersey—signing up restaurants.
Over the next several years, Groen's business began posing an increasingly stiff challenge to Just Eat, a much larger British company that was dominant in many European markets. Just Eat had been used to steamrolling rivals, but it met its match with Takeaway in the Netherlands. "It was difficult for us because of him," says Adrian Blair, CEO of digital accounting platform Dext, who was Just Eat's chief operating officer at the time.
Groen's recipe for success involved spending heavily and playing rough. One former Takeaway employee remembers repeatedly clicking away at Just Eat's Google banner ads until they had exhausted its small budget for pay-per-click marketing, causing the ads to disappear. Groen's staff also removed Just Eat stickers from restaurant windows—while using a special glue to keep their rival from doing the same to theirs, according to Blair.
In 2016, Takeaway and Just Eat declared a truce. Takeaway acquired Just Eat's operations in the Netherlands and Belgium, while Just Eat took Takeaway's brand in the U.K. Groen then poured the profits from his Dutch operation into expansion in Germany, squeezing local leader Delivery Hero until it agreed to sell its brands in the country to Takeaway in 2018. The following year, Takeaway took over Just Eat entirely, an expensive deal that turned Groen's company into a major global player.

The merger with Just Eat was approved in April 2020. When it announced the Grubhub acquisition two months later, Takeaway became the largest food delivery network outside of China—and Groen had the daunting task of integrating two large operations almost simultaneously. Groen is already investing aggressively in the U.K. to fend off rivals Uber Eats and Deliveroo, which this week said it was seeking to raise 1 billion pounds in a London stock market listing.
The U.S. comes with distinct challenges. Some cities have passed caps on the fees companies can charge restaurants, which could further complicate their attempts to reach profitability. Even more attention has been paid to the practice of delivery companies classifying workers as independent contractors, deploying them via smartphone app and describing them as mini entrepreneurs rather than employees. The controversial labor model was effectively blessed in California last year through Proposition 22, a public referendum that classified gig workers as independent contractors while allowing them to access some benefits, but legal wrangling continues over how such workers are classified in the rest of the U.S.
In Europe, Groen employs his drivers directly. He's publicly questioned whether competitors that don't do so are breaching the law in Europe, which has been moving to a more restrictive approach on classifying workers as independent contractors. But Grubhub said in a public filing this month that classifying workers as employees would cause serious harm to its business.

Groen seemed to soften his stance on direct employment in the recent earnings call, saying his priority was to provide workers doing an inherently risky job with adequate insurance. In Europe, this has meant direct employment. But in the U.S. "there's a different way of arranging that, and that's also fine for us," he said. "We're not per se in favor of the employment model. We're in favor of treating our staff decently."
In Europe, Groen was willing to use profits from one market to secure growth in another. He'll have to be willing to do the same in the U.S., according to JMP Securities analyst Ronald Josey. Despite Groen's argument that the economics are better if his company doesn't primarily handle deliveries directly, that approach may keep Grubhub from gaining on its American competitors.
Josey says Takeaway is going to have to spend to expand Grubhub's delivery force, no matter what legal framework it attempts to pursue while doing so. "You have to have that these days," he says. And with Grubhub lagging behind in such a competitive market, "the big question is going to be how much is Just Eat Takeaway willing to invest in the growth here."
 
Read next: For Amazon Workers, Winning Union Vote Would Be Just a First Step
(Updates 13th paragraph with information about Deliveroo market listing. A previous version of this story corrected a reference to Grubhub's lobbying on Prop. 22.)
BOTTOM LINE –
Takeaway's acquisition of Grubhub puts the company in a powerful position in the U.S. food delivery industry, but it faces significant challenges.